How to: Choose the Best Bla Bla Car
Dear Jesse,
I'm glad to hear you've decided to try out Bla Bla Car as your transport option for your upcoming trip! While I've never had a bad experience with the ride-share company, I understand that you'd like to make all the right moves to find the very best option for you and, with so many different options, how do you possibly choose the right one!?
While I believe that half the fun of experiences like ride-sharing is NOT knowing what you're gonna get out of it, I also recognize it's important to do a little more than a random choice. I've therefore spent some time thinking through all the minute details that I consider (in the short, 5-10 minutes I'll spend choosing a trip) so that you can filter through the options like a seasoned Bla Bla Car-goer, ever on the first run.
These are the six things that I've found to be most important to me when sifting through the long list of trips for a weekend away.
1.) Time: This one's self-explanatory. What time do I want to leave and arrive? Whose trip fits that timeframe best? This is usually the quickest way to narrow down my scope to a handful of options.

2.) Exact Location: If a driver has already listed a specific pick-up or drop-off point that works well for me, that earns him an extra point in my book as I can reserve with him quicker than with someone who didn't (because I would want to ask first). When I first started using Bla Bla Car, I reserved with someone and worked out these details after. At present, I've changed the order of that because part of the convenience of ride-sharing is that drivers tend to pick up at central locations which saves me a ride on the local bus to get out to the bus station. If it turns out my driver is only willing to pick me up or drop me off outside the city center, that is time and/or money I am losing due to my choice.
3.) Driver: You can read through the driver's profile to see their age, amount of experience with Bla Bla Car, and the opinions that other riders have left. Perhaps it seems harsh that this is third in importance to me, but that's also because I've only met friendly people in my experiences, so I'm not as concerned about that not happening.
4.) Price: Bla Bla Car claims that it does not intend for drivers to profit economically from ride-sharing. Instead, the idea is to connect people in order to cut down on everyone's travel expenses. The company therefore recommends a price and sets limits on how much drivers can charge, depending on the length of the trip. I therefore tend to steer clear of drivers whose prices are noticeably higher than other options on that day. A small difference is understandable, but anything more than that feels a bit dishonest to me. (For example, a trip I often make is from Granada to Malaga and I expect to pay €8 for it. €6-7 is therefore a happy find, but €9-10 is as high as I will go.)
5.) Luggage Allowance: Almost everyone chooses "medium-sized" as their luggage allowance and so I never pay much attention to this factor as I only have a carry-on-sized bag. However, if you will be traveling with a full-sized suitcase or multiple bags, you should definitely take that into account. In that case, I recommend contacting the driver about this inquiry directly. Even if the "luggage allowance" posted on the trip reads mediana, she can ask other riders how much they will bring with them and estimate the amount of space to give you a more realistic answer as to how much you can bring.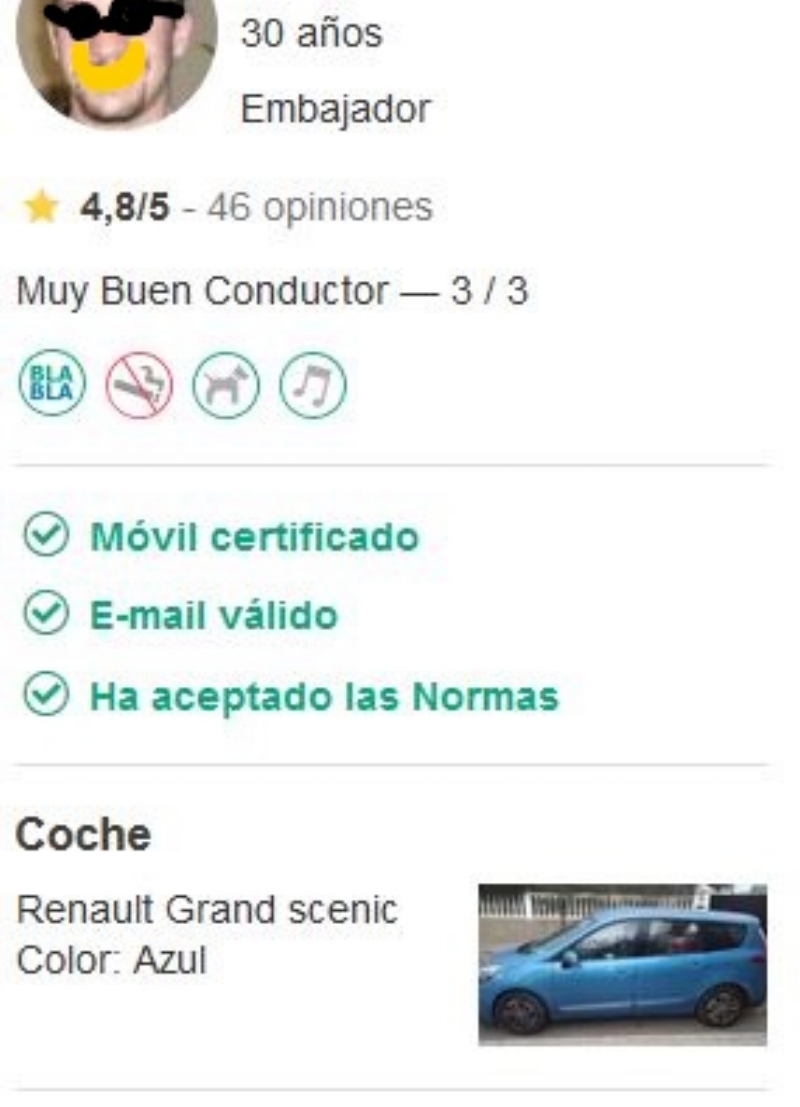 6.) Car: This final factor isn't very important to me, but it is worth checking out. On the rare occasion, you will find someone with a huge van, renting out seats on multiple websites and a mini-bus ride may not be what you were looking for. Or you may find yourself on a 5-hour summer ride in an old car without AC. Even if none of it matters to you at all, you'll at least want to know the make and color of your driver's car to facilitate a less stressful meet-up.
Of course, there are some additional factors you could consider as well. There are some drivers who are signed up for "automatic reservations" (which may be beneficial if you're in a time-crunch) and others who guarantee only two riders in the back seat (which is great if you like to know you'll have a little extra room). Also, the arrival time for Bla Bla Car drivers on a route with multiple stops tend not to be as reliable as drivers only going from your particular city to your destination. These drivers may arrive sooner because Bla Bla Car calculates the arrival time estimates (and not everyone follows the speed limit 100% of the time) or later because they needed to wait for other riders who were late at previous pick-ups.
I recommend you keep in mind that, although a very professional and reliable service, Bla Bla Car connects you with average people who may end up leaving their house later than expected or stopping for half an hour along the way for a coffee. Every driver is different and not everyone will be looking to deliver you to your destination exactly at the time estimated on the website. If you have time-sensitive plans upon arrival (such as a flight to catch), drivers tend to be understanding and get you there as quickly as promised. Still, if it's gonna be a close call, taking public transport like a bus that is tied to a schedule may be a better bet. Best of luck!
Sincerely,
Spain